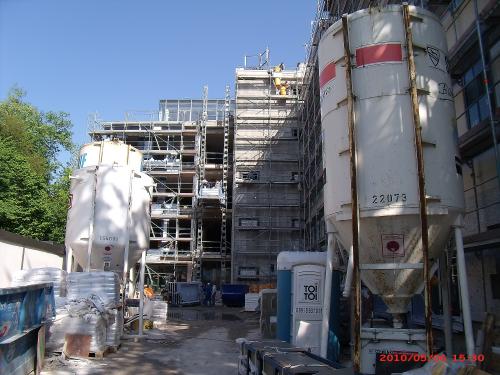 Modernisation of office and administration building
Owner of building:
Wartburg-Henderson
Kapitalanlagengesellschaft für
Immobilien MbH c/0 HI
Architect:
ASW Allmann Sattler Wappner Architekten GmbH
Silver certification in accordance with the German
Sustainable Building Council (DGnB)
Tenant:
Glaxo Schmith Kine
BARDEHLE PAGENBERG
Commerzbank
General contractor:
Peter Gross Bau GmbH
18,400 m2 gross floor space above ground
Construction period: January 2010
Services:
- high-quality acoustic drywall construction
- ceilings with integrated cooling system,
drywall ceiling with plastered surfaces
- walls
Contract value: approx. 1.800.000.00 €
Completion: 2011
The core of the building constructed in the sixties
and seventies was completely gutted
and redeveloped using the existing
geometry and expanded with additional
floors.
Investment from the owner of the building
is in the region of 23 million in order to be
present in the high-value Munich rental
market sector.
The company Bohle Innenausbau GmbH, Munich
branch, was contracted by Peter Gross Bau
GmbH to construct approx. 7,000m² of partition
walls, 3.000 m² of wall panelling and approx.
13.000 m² ceiling systems with integrated
cooling in the building, cooperating with the
Berlin branch.
The passive and active ceilings are combined
functionally in order to be able to furnish the
high-quality ceiling system with acoustic
plaster. These visually identical surfaces offer
the greatest amount of comfort in all rooms.
The contract value totals approx. 1.8 million
which includes the power units of individual Bohle
companies involved in the project - Innenausbau
Berlin (interior construction) and Brandschutz
Munich (fire protection). The buildings are being
developed in a time-staggered manner where
planning often could not follow construction
progress. The construction time is approx. 1 year
and should be handed over by the end of the year.
The future tenants will definitely be very happy
with their modern building with its excellent
location near the city centre.