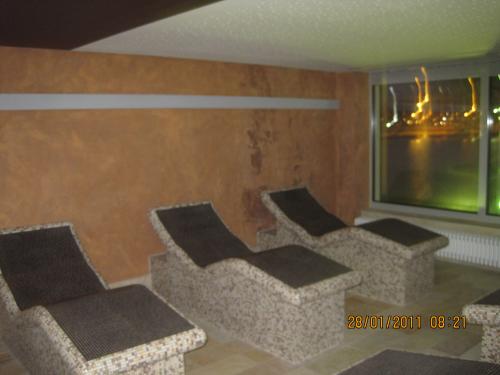 Bohle Innenausbau GmbH & Co. KG Stuttgart was delighted to be involved in the extension of the sauna area in the Stuttgart mineral baths.
Ceiling panels in the cool-down area
The extension of the sauna area was begun on
30 October 2010. In total, the "winemaker sauna"
will add three new saunas along with relaxation
rooms and patios to the LEUZE sauna area.
Bohle Innenausbau GmbH & Co. KG, Stuttgart installed the
perforated plasterboard ceiling
aqua panel ceiling
wooden acoustic panelling on walls and ceilings
The aqua panel substructure was fixed to the
ceiling by foam glass with a CS coating and
with dowels Kunkeldübel.
The ceiling panel attached also shows that the
13 m2 cool-down area has 20 corners. Here
40cm-wide aluminium panels were installed
with incremented wall brackets.
Acoustic panels and perforated plasterboard
ceilings from Habisreutinger were installed
in the relaxation rooms.
The Bohle-Gruppe wishes visitors to the
sauna area a pleasant and relaxing stay.